By Michael Brown:
http://spiritdaily.com/Childeyes.htm

---
A secret about purgatory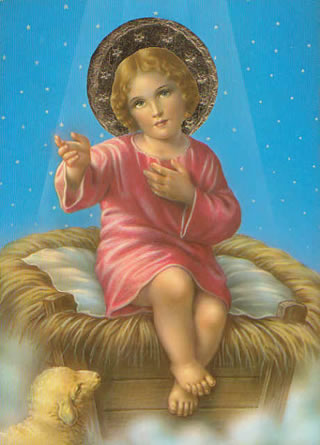 The Child teaches us many things. He teaches us to be humble. We see this is the manger. He teaches us simplicity. He teaches us trust. How much faith He had in God, and trust in Saint Joseph, the Blessed Mother. He teaches true Power (sans electricity).
He didn't need social media or a television network or gold to draw the shepherds and wise men from afar.
He also teaches us to see the world as an Infant: through eyes of simple wisdom more than complex knowledge.
To look toward God, toward Creation, toward others with wonderment.
Too often we clutter our minds and views with information that in the final analysis will amount to nothing or little.
How much time and energy do we waste on what does not actually inform us on the best way to achieve Heaven?
For the eyes can be darkened to such an extent that we stumble into purgatory (or worse).
"The souls in purgatory are enveloped, as it were, in a thick shroud into which they have wound themselves while living here on earth," says an amazing revelation (in a booklet called Secrets of Purgatory).
"It is the garment of their own egoism. Their main care in this life was themselves, just as the world's highest ideal is self-glorification and honor. It is this which fashions that coarse garment through which the Light of God can hardly penetrate. Many souls on earth do not seriously ask themselves the question: 'Does my way of living please God?'
"Instead they think without anxiety that their life is upright and most praiseworthy, but they are mistaken. Indeed, there are even people who gladly go to church, who pray and perform works of mercy -- but a thin hard crust forms around their souls. They think that everything they undertake is very pleasing to God. But they never truly seek God's wishes. They perform all their actions without love, without holy fear of God. They dull their conscience through the fulfillment of external duties only.
"There are also souls in purgatory who had great wisdom and learning in this life, who were famous, who did much good for their fellow men, who upheld all righteousness and justice.
"However, they performed these actions because of ambitious motives. They were entirely permeated with the spirit of the world, living a selfish and independent life, while completely ignoring their Lord and Creator. These souls enter eternity with the least knowledge of God. On earth they were well-versed in everything; now they find themselves in the greatest quandaries. Formerly they were so highly educated and now they know nothing, for God reveals the truly great things only to the humble.
"Such 'wise' men often have shallow souls. They frequently remain a long time in purgatory -- until they have been liberated from their ego, until they are aroused from their slumber, until they lose all concern for themselves. They lie, dead and lifeless, in their shroud until Light Everlasting finally penetrates through their windings to the interior. These are the most helpless souls, for they have so much of the world and self in them.
"There are in purgatory wise men who stood in great repute among the worldlings, but now they find themselves greatly perplexed.
"For there the smallest and poorest child is often wiser than they. Again this truth comes to light: God reveals great things to the humble."
[resources: Secrets of Purgatory]